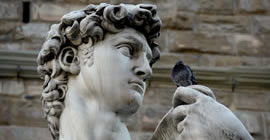 Florence
Visit this romantic city, the centre of Renaissance.
Florence is known for its monuments and works of art.
The magnificent dome of the cathedral is by Brunelleschi and the nearby
bell tower by Giotto.
In the heart of the city you can visit the unique Ponte Vecchio, (the Old
Bridge), with its ancient jeweller shops, Piazza della Signoria, Palazzo Pitti,
the Uffizi art gallery, the Accademia where Michelangelo's "David" can be
seen, and works by Donatello, Giambologna and Raphael.
It is 200 km by car.